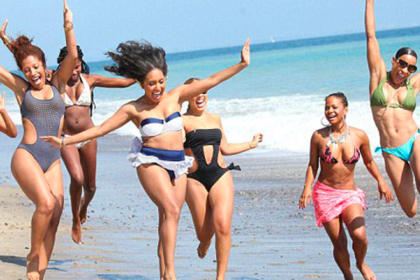 A smoldering summer is soon fast approaching with water parks, beaches, and pools being the main attractions. Hairlivery wants you to enjoy an amazing summer, dipping and diving, working flawless hair to match that untouchable summertime glow. Take a look at these top 5 Tips To Maintaining Wet Hair Extensions.
1. Know What You're Working With
Knowing the key facts about your hair extensions is essential. Virgin human hair is a lot different than synthetic hair, as well as full sew-ins is a world a part from partial sew-ins when it comes to caring and maintaining for hair extensions. Many virgin human hair extensions come in a multitude of styles. Hairlivery in particular offers Straight, Natural Wave, Loose Wave, Body Wave, Loose Curl, Curly, Kinky Curly, and Jheri Curl options. These types of hair patterns will ultimately determine how your hair extensions will look once they react to being wet. + Hair Rule of Thumb: All virgin human hair can be dried and straightened but also keep in mind that not all straight hair will become curly when wet. + Always keep the care instructions from your hair extensions. This will come in handy when you decide to wash or wet your hair. + Sew-ins are always the best to work with when considering getting your hair wet, quick weaves or glued wefts are more prone to dissolving and loosing in the chloric or salted waters.
2. Leave Outs Do Matter
Many of us divas love to blend our natural tresses in with our hair extensions to have a seamless look of versatility with ponytails options and the like. However, the state of your leave out does matter. Whether you are natural with a press or chemically relaxed, the texture of your left out hair will change when wet. + If you are Natural, go for a goddess-braided look from your roots. This will hold your leave out in place while you are swimming without causing to much frizz and displacement. + If you are Relaxed, brush your hair back and add a headband or tie to the perimeter of your head to hold your look in place. You can also opt for a goddess-braided look as well. + Natural or Relaxed, a trusted ponytail is always a go-to when swimming. Gather your hair into a low or middle ponytail to lock your tresses into place.
3. From Beach To Chic
Without a doubt every woman's first question is: "If I get my hair wet, what will it look like after?" + To achieve the best beach waves on straight human hair extensions, use the trusted Scrunch N' Go method: First rinse the chlorine out of your extensions or, if you're rocking this straight from home, dampen the hair with a spray bottle. Second, t-shirt dry your hair lightly then take some form of holding serum, mousse, or gel (like Herbal Essence Totally Twisted Scrunching Gel or Aussie Sprunch Mousse) and starting from your ends to your roots scrunch and squeeze the hair upwards. This action after a few applications will start to formulate waves in the hair. As the day goes on, it will air dry and the serum will hold the waves in until day's end. Quick Style Tip: Worried about leave outs while trying this tip? Refer to Tip #2. Ta-dah!
4. Manipulation At Its Best
It may come as a surprise to some but styling hair when it is wet is a golden styling alternative, especially when trying to manipulate the hair to achieve a curly style or maintain a wet style. Here are few go-to styles for your wet mane: + The Knot Out Section your hair extensions into four sections. Detangle and comb through your hair from ends to roots. Take the first front section and twist the hair away from your face as if you were wringing out your hair until it is tight and starts to bend into a swirl. Keeping with the direction of the twist, wrap the hair around forming a knot. If your hair doesn't stay put, use a bobby pin to secure the hair. Follow the prior steps for each section until you have four bantu knots. Once hair is dry, unravel to reveal a soft wavy mane with perfect set curls. + The Braid Out Section your hair extensions into two sections. Detangle and comb through your hair from ends to roots. Take each section and braid the hair from root to ends to form two pigtails. Once the hair is dry, unbraid to reveal chunky soft curls that will last for days.
5. Completely Wash. Completely Dry
A lot of women have this preconceived notion that you must not get your hair wet when you have hair extensions in but all knowledgeable divas know that in order to comfortably keep a sew-in up to par, you must wash it! No if ands or buts about it. Even more importantly is making sure your sew-in is completely dry after the washing process. Hair Rule of Thumb: Human hair can always be revitalized, blended hair can be manageable, synthetic hair – proceed with caution. Must Haves: Applicator Bottles. Clarifying Shampoo. Conditioner. Deep Conditioner. Leave-In Conditioner. Heat Protectant. Hair Dryer. + Let's start with the roots. Never neglect your real hair while in a sew-in. You must clarify with a shampoo to get rid of the build up and condition to bring moisture back into your scalp so that infamous "hair pat" does not take a hold of you. Using applicator bottles will just make this all the more easier for direct application. + Drying is often skipped but crucial to keeping your hair feeling and smelling good. If you skip this step you are more prone to developing mildew and bacteria that can lead to hair loss. + Divide your hair by the wefts to dry your hair directly from the roots. Using a Narrow Concentrator Nozzle will help while having your handheld dryer on a high warm/cool setting. Hooded dryers work just as well but will take more time. Quick Style Tip: Use Heat Protectant to lightly spray your wet hair extensions with before blow-drying your roots and the hair. This step will ensure that your hair extensions are protected from the heat and will allow your curls to pop back once you wet them again. Yes. Looking and feeling fabulous is a fulltime job but let's not let it completely consume us. Figuring out a good routine and picking up gems along the way is what its all about. Have fun with it, just roll with the punches, and remember that if you ever need a tip or two, Hairlivery is conveniently here just for you. As always, You are fabulous … You are beautiful.