FAQs
Is your hair really Virgin Human Hair?
We buy our hair directly from the countries exporting different types(Brazil, Malaysia, India, and Peru). 100% Virgin Human Hair and Unprocessed.
How much can I purchase at one time?
You can purchase as much hair as you would like, however for delivery you must purchase a minimum of two bundles.
Can I color the the hair?
Yes the comes in natural brown or black color. Our 100% Pure Virgin Human hair is natural AND NOT PROCESSED however if hair is dyed and/or excessive heat it can change the condition of the hair please consult your hair stylist prior to coloring hair.
What is the cut off time for same day delivery?
All same day delivery must be booked 2 to 3 hours prior to desired time. Los Angeles Area Residents Only (Includes Los Angeles and Surrounding Cities, San Fernando Valley, South Bay, and Orange County). San Diego, Inland Empire and South Orange County must be made by 10am and requires a 2 to 3 hour window.
Do you accept cash?
We do not accept cash. We do accept pay pal and credit cards(Visa, MC, Discover, Am Ex).
How many Bundles Do I need?
Our bundles are 3.5 oz per bundle and most full weaves require 2 to 3 bundles. Please see chart below: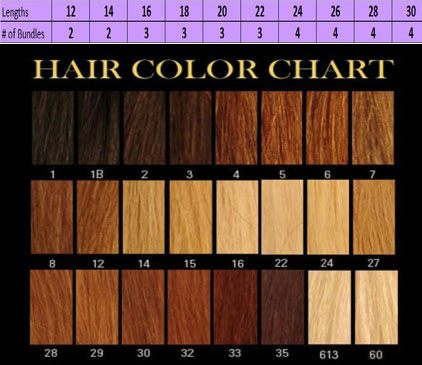 1.  Wash and condition hair regularly
2.  De-tangle hair gently before washing. Do not rub or twist hair
3.  Add mild shampoo to cool water and swish hair till clean. Rinse thoroughly.
4.  Blot out excess water with towel and allow hair to dry naturally. Do not expose to sun
5.  Comb curly hair gently with your fingers from end to top. Do not brush
6.  Brush hair in a downward motion starting at the ends and work your way up to the roots.
7.  Certain items should not be brushed. E.g., braids.  Consult your hair stylist if in doubt.
8.  Hair may tangle if general care directions are not followed properly.